1994 - Off Centre
Thumbnail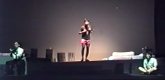 Short Description
Act V, Scene 1 (Vinod, Ah Seng and Mr Chow)

VINOD: And you didn't pay us for two months. That's not fair right? And you know Mr. Chow, people were saying that you only hire ex-patients because you want to get some Community Service Award.

CHOW: Vinod, they should count their lucky stars that someone like me is even taking them in, giving them an opportunity. Who else would do that? Who else would hire a person who is fine today and has a breakdown tomorrow? Huh? You tell me.

AH SENG: Want to resign also cannot resign. Five times already I resign. Nobody want already. Smelly already.

CHOW: My company has a reputation to maintain. We have won awards at WITS, we have BEST and WISE classes. Our rate of productivity is totally in alignment with the government's. These people are a risk factor. But I take them in because of the kindness of my heart.

AH SENG: Here good. Nobody disturb. Last time I work got people disturb. People know we all mental case. I think maybe I must carry pager or handphone. Then people won't think I mental case.